Resellers Needed Worldwide
PR-Mailing System
Only NOW, it is possible for you to have all your database of potential customers, clients and contacts on the most comprehensive and flexible system ever !
This system was carefully designed and constructed to make your contacts virtually on line with your company's support and PR team !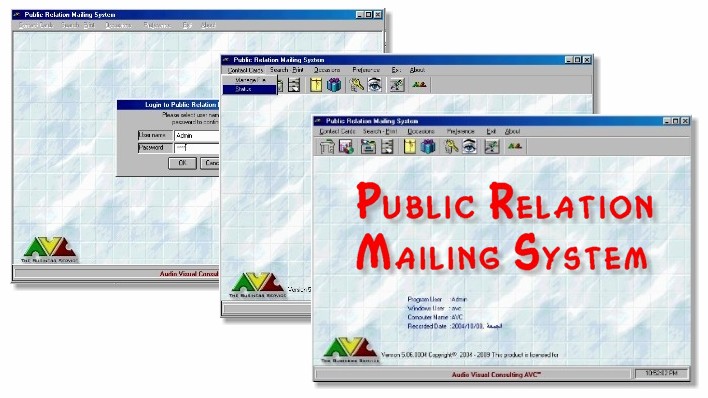 This Public Relation Mailing System, in just a few mouse clicks can do a task that a 5 personnel PR Department would achieve in 18 working hours !.. You can build a search job based on predefined criteria, such as segment, business-type, title, position, age, and interest, or a mix of all ..
Your results are viewed, draft printed, filtered, and finally sent by email or printed on envelop labels, besides being able to save this selection as a job that can be retrieved at similar events or occasions …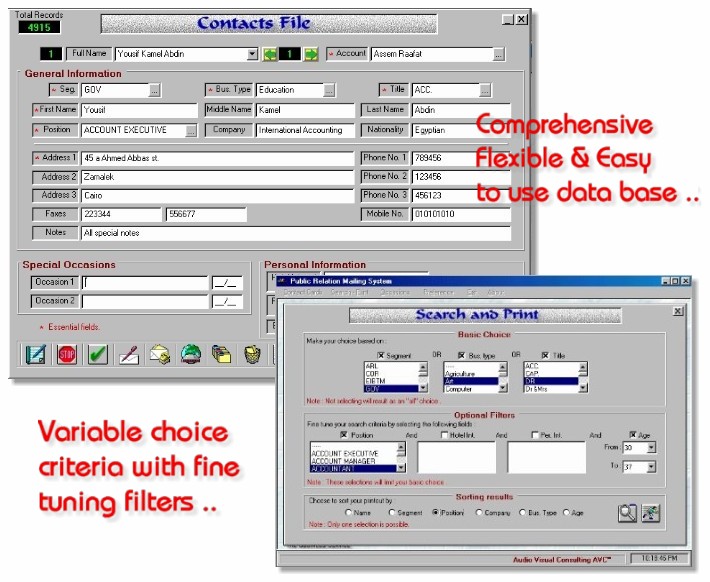 This amazing PRMS will tell you what special occasions and birthdays are within the next 20 days, far more, you can choose how to contact these customers .

The PRMS features some very intelligent controls, such as a list of pending jobs that were not sent, fine tuning a search list, print application forms to send to clients for updating their information, also features contact's personal interests and relations with your company, in which you can easily determine a category or importance for every contact. Also a complete database statistics form where Administrator can easily manage duplicated and deleted records ...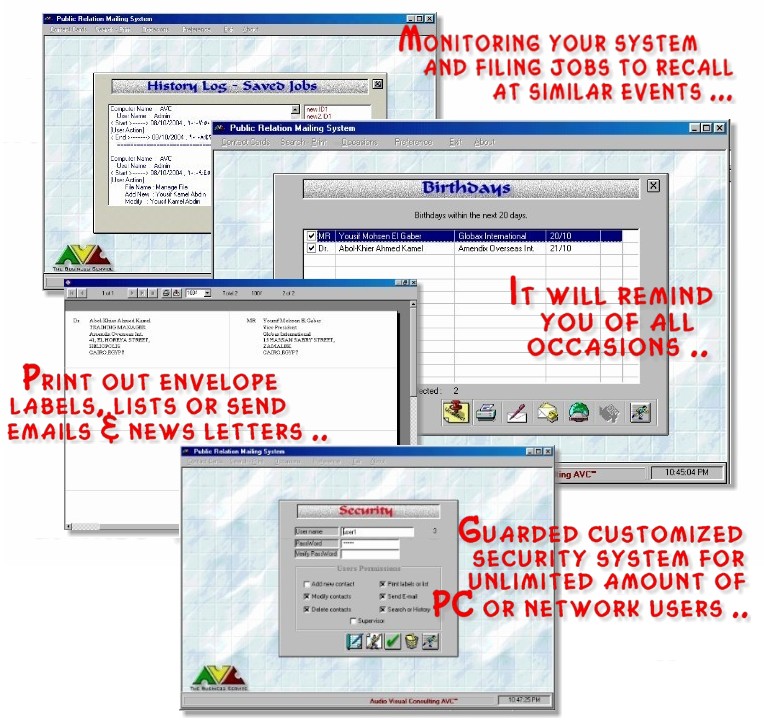 The system is highly secured and protected, and Administrator can give the users specific permissions and customized security levels, such as adding, deleting, printing, sending emails and others. This security is also guarded by a self generated Log that tells you who access the system, which level, and what was done in details..

This system was initially thought of by

A

V

C

to facilitate with maximum accuracy, the tasks of large and middle size companies, or even offices that have a vast variable types of clients, and are keen on periodically contacting, inviting and sending them greetings, invitations, advertisements, updates or even news letters..

Finally, the best surprise … It can be available for stand alone PCs, as well as network systems, where installation, licensed certificate, guaranty and training are all included .

 

Call NOW 27963248 ten lines or 0107702356